Title: Give The Dark My Love by Beth Revis
Rating: 4/5 stars
Synopsis:
Seventeen-year-old Nedra Brysstain leaves her home in the rural, northern territories of Lunar Island to attend the prestigious Yugen Academy with only one goal in mind- master the trade of medicinal alchemy. A scholarship student matriculating with the children of Lunar Island's wealthiest and most powerful families, Nedra doesn't quite fit in with the other kids at Yugen.
Until she meets Greggori "Grey" Astor. Grey is immediately taken by the brilliant and stubborn Nedra, who he notices is especially invested in her studies. And that's for a good reason- a deadly plague has been sweeping through the North, and it's making its way toward the cities. With her family's life-and the lives of all of Lunar Island's citizens-on the line, Nedra is determined to find a cure for the plague.
Grey and Nedra grow close, but as the sickness spreads and the body count rises, Nedra becomes desperate to find a cure. Soon, she finds herself diving into alchemy's most dangerous corners-and when she turns to the most forbidden practice of all, necromancy, even Grey might not be able to pull her from the darkness.
Notes: I was provided a free copy of this book from Penguin's First To Read Program
Thoughts: This book, let me tell you. While there were some parts that were a bit dry and just didn't do it for me, most of the book had plot twists that made me go "What?!" out loud. It starts off with a hooking prologue and then in chapter one, Nedra is going off to Yügen, the alchemy academy. I thought the beginning moments with her family, and definitely all that followed after, were so cute and sweet.
Really, my main issue was that I didn't like Nedra and I'm 99.9% sure that the first half of the book's sole purpose was to make the reader like Nedra. So I failed on that end, and because of that, what came after didn't evoke the emotions it should have. I won't give anything away but downward character arc (the best thing in YA lit, in my opinion.)
Besides my disconnect with Nedra, I really did love Ernesta and Grey. They were so soft and pure. It was definitely these two that kept me reading during the slower moments.
The ending. I didn't know it was possible to fit that many plot twists into the last few chapters but Beth Revis did it. I won't say much because spoilers are awful, but when I finished the book I sat there with my mouth open, something like this: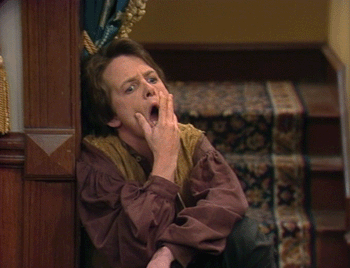 Where you can buy your copy: Amazon , Barnes and Noble, Penguin Random House
I also recommend the audiobook, which I listened to an excerpt of on Penguin's instagram. The link to listen to the full version is here.